Resources
This page contains related documents and photos concerning and related to the H-CHP Project
Downloads (file links element)
6th H-CHP Partners meeting, in Reykjavík, Iceland, 17th-20th February 2020
The sixth H-CHP partner project meeting took place in Reykjavik,Iceland. Pictures show the integrated gasification unit at the University of Iceland on a trailer. We have the system portable in order to be able to visit stakeholders for demonstration and promotional purposes. The following is a short description of how the system works. The syngas from the gasifier is led into the bottom of the feeder to both cool down the gas and heat up the feedstock before it enters the gasifier. The gas is then run through a coal filter before allowed into an Internal combustion engine (A Vortec industrial engine). The engine drives a generator that provides 15kW electricity (3-phases). The cooling water from the engine is run through a heat exchanger to heat up cold water. The system can provide up to 20 kW of heat. The exhaust from the engine is led into the gasifier to use the waste heat.
Charles Roarty visited Aranmore Island Jan 18 and Louisburgh Community Futures Sept. 18
Summer Time 2018
Thurso Conference May 2018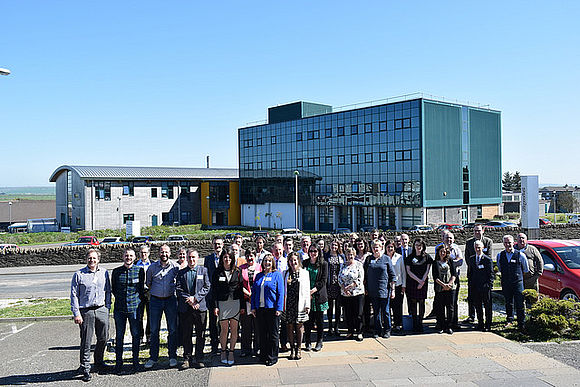 Tighean Innse Galls' Brian Whitington addressed the conference, Local Opportunities through Nordic Cooperation, held in Thurso, Scotland on 24th May 2018. His address was on the benefits of H-CHP and how northern periphery area partnership is achieving this. Of interest to the conference was the development of supply chains, and how this will stimulate economic development across the region, in particular to the Highlands and Islands and supply of biomass.
European Energy Poverty Conference - 29th March 2018 - Hosted by Energy Action, Ireland
Project meeting of H-CHP group in Lulea, Sweden - March 2018
Project meeting of H-CHP group in Oulu, Finland - August 2017
Project meeting of H-CHP group in Reykjavik, Iceland - November 2016
Video placeholder